K&H Outdoor A-Frame Cat Bed
Details
https://www.petsmart.com/cat/beds-and-furniture/heated-beds/kandh-outdoor-a-frame-cat-bed-5211628.html
Discounted Price

$91.99
Old Price

$179.99
Promotions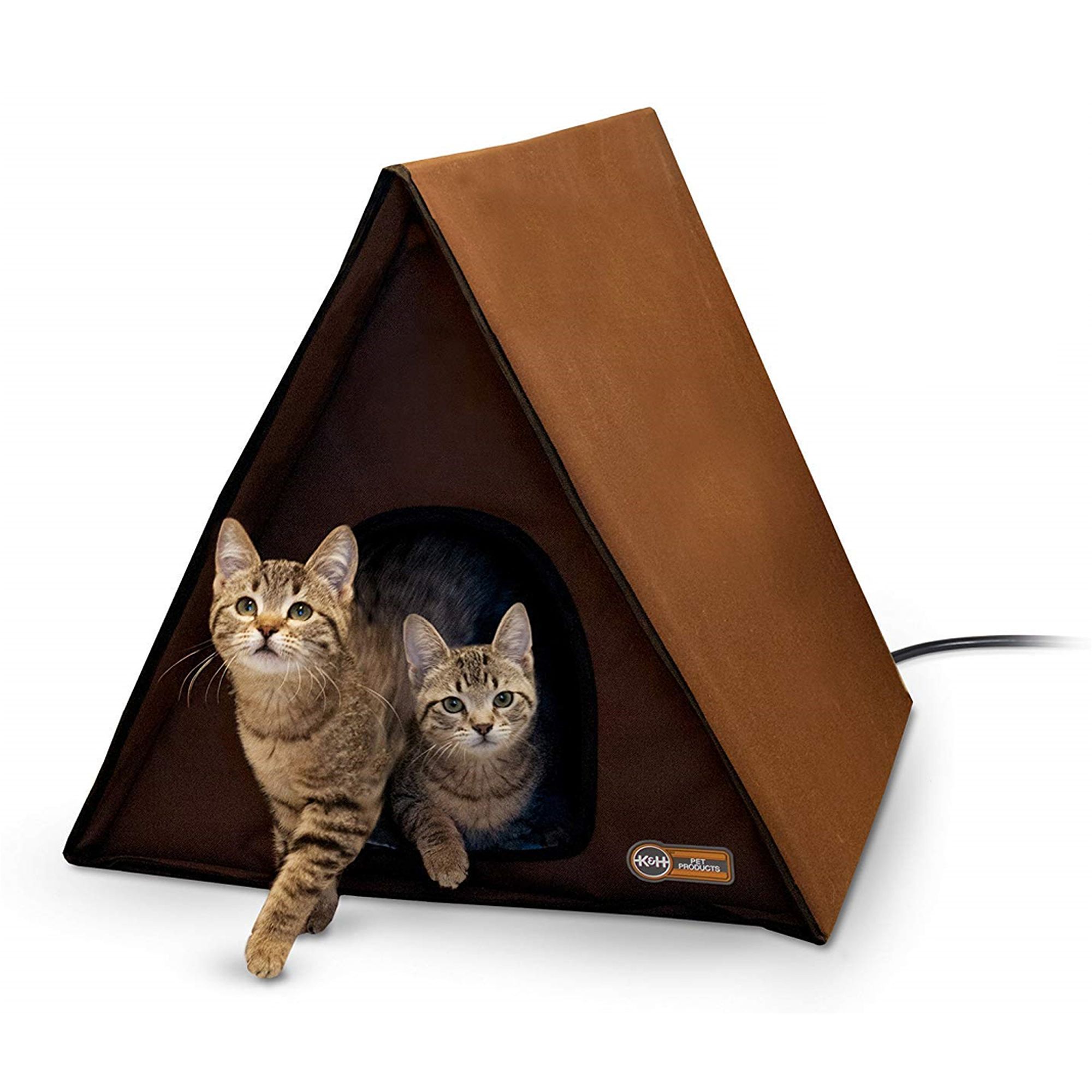 Is it warm enough on -1° night to keep 1,2, or 3 cats warm?
Yes, our outdoor products have all been tested at -20°F and are designed to work in single digit temps. Your kitties will stay nice and cozy warm even in negative temps.
Date published: 2019-01-18
does the pad have a thermostat
All of our heated products are thermostatically controlled to heat to 102°F, regardless of the size. K&H outdoor beds and pads are designed to warm to your pet's normal body temperature of 102°F when he/she lies on the bed or pad. When your pet is not on the bed or pad, the heat will dissipate into the air and the surface temperature will vary according to the ambient air temperature.
Date published: 2019-01-15
Can this product be used in an enclosed porch?
Thank you for your question. Yes, absolutely this product can be used on an enclosed porch.
Date published: 2019-01-15
How large is the heated pad/bed? I was looking at your "extreme heating pad cover" would this pad fit that? 
The K&H Outdoor A-Frame Cat Bed includes and accommodates a medium K&H Lectro-Soft Outdoor Heated Bed which is 19" x 24". It does come with it's own cover. The Extreme Weather Kitty Pad Deluxe Cover is a bit too small for the Lectro-Soft Outdoor Heated Bed.
Date published: 2019-01-15
There is no way to inflate the heated bed per the instructions. Also, it says not to have it outdoors in the rain? Help!
We apologize for the incorrect instructions. The model you received does not have an air valve. The heated pad that is included in your purchase should always be kept out of the weather. The A-Frame house provides that protection from the rain as per the safety precautions.
Date published: 2018-12-09
The description indicates available in both heated and unheated. What is this product offering since there is no ability select option?