Trixie Oviedo Cat Tree
Details
https://www.petsmart.com/cat/beds-and-furniture/furniture-and-towers/trixie-oviedo-cat-tree-5181156.html
Promotions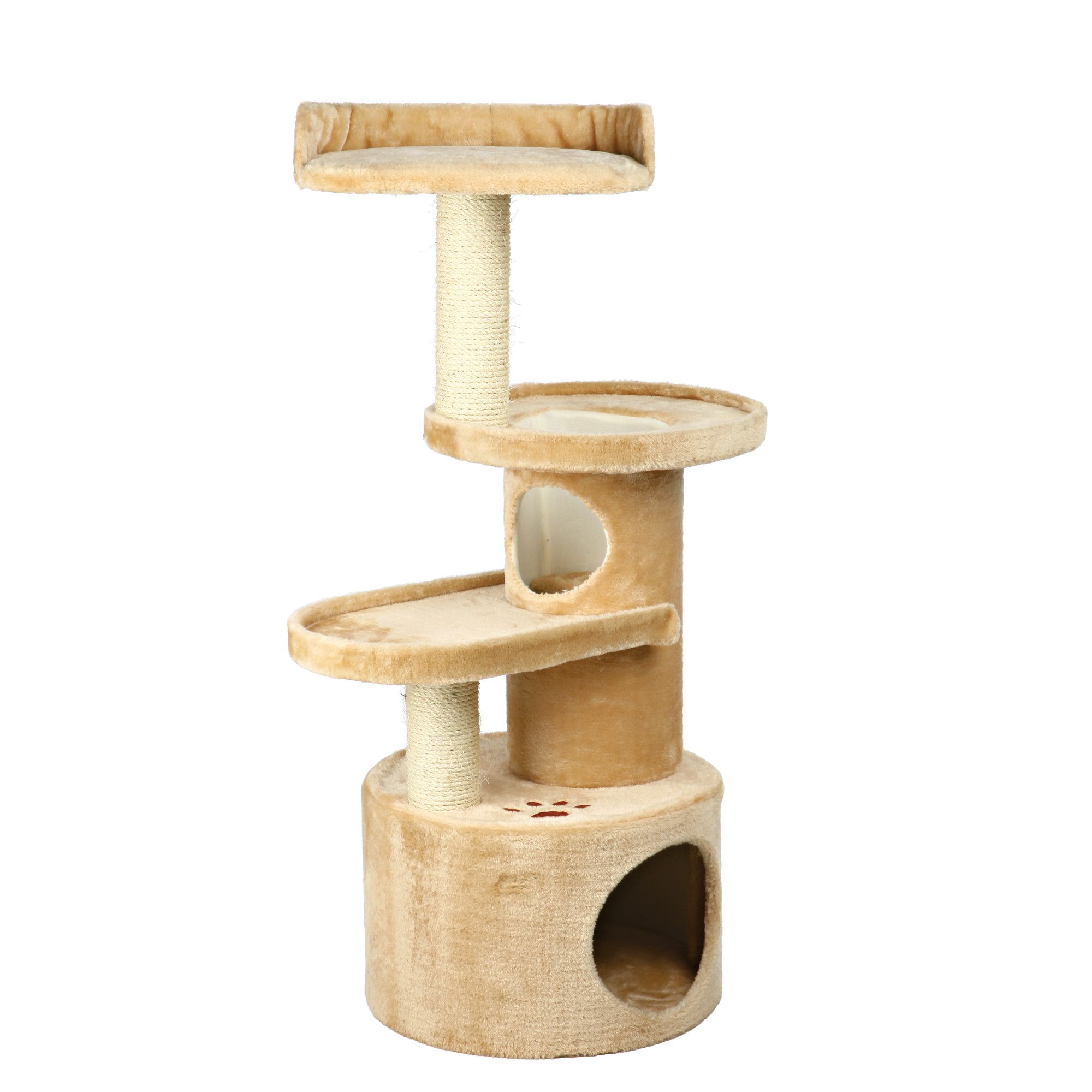 Are the openings and platform large enough for a large 16+ pound cat? What are measurements of the base?
Judy49 - Thank you for your questions regarding our Oviedo Cat Tree. The opening into the cave is 8"; into the tunnel is 7.5" but coming out of the tunnel at the size is only 5.5". The base is 17.5" diameter. The recommend weight limit for the Oviedo is 14 pounds.
Date published: 2018-05-02
I have 2 cats one is 16 lbs.  are these pads big enough to hold her?
The Oviedo Cat Tree is recommended for cats 12-14 pounds.
Date published: 2018-04-06
Is the sisal the bigger width or the smaller width? How sturdy is this? Does it wobble slightly in some places?
The posts are wrapped in a thin natural sisal. The Oviedo is a sturdy unit.
Date published: 2018-02-04
If it doesn't come assembled, how long does it take to put together? Is it difficult to put together?
Malay - Assembly time varies, however, the Oviedo should be around 5 - 15 minutes.
Date published: 2017-11-14
Do it comes assembled, if not, is assembled simple.
Malay - Thank you for asking about the assembly of Trixie's Oviedo Cat Tree. It does not come already assembled. The cat tree does come with easy to follow instructions. Thank you.
Date published: 2017-11-14
I have a bigger cat, would he be able to fit in/on it??
Hailey001 - Thank you for your inquiry. The Oveido Cat Tree has a weight limit of 12-13 pounds.
Date published: 2018-02-04
We ALL want to know all the dimensions! Why is this so hard? We want not only the height and the base dimensions but also the dimensions of each level in order to determine if it will fit our pets?
The dimensions you are looking for are as follows: Overall dimensions: 17.5" x 17.5" x 41.25". Additional dimensions are: condo 8"x8"x11"; posts 3.5" dia.; tunnel 8"x8"x17"; platforms 11"x13" and 12"x16". And the weight is 30 lbs.
Date published: 2018-02-05
What are the dimensions? 
The Oviedo's dimensions are - the floor area is 17.5 inches x 17.5 inches. It is 41.25 inches tall.
Date published: 2018-02-05